New opening,
Europound
Murcia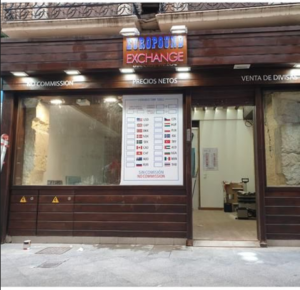 Very soon we will be very close to you, in C/ Trapería 32, you will be able to change 54 different currencies, very easily and at the best price in the market.    We will open our doors next week, come and see our service.
In the meantime, you can visit these beautiful places in this wonderful city.
The Murcia Cathedral:  This imposing icon of international baroque architecture, has the second tallest tower in Spain, as well as extraordinary chapels among which stands out The Chapel of the Velez is flamboyant Gothic style.  Within its walls, the old cloister of the Cathedral houses a museum. Here you can see works from the Italian Trecento, paintings by Luca Giordano and impressive sculptures by the master Francisco Salzillo.
The Real Casino: It is an architectural jewel that was declared a national historic-artistic monument in 1983.   Once inside, you will certainly not miss its beautiful Arabic Patio, with more than 20,000 sheets of gold leaf, which can be seen in the formwork.   Likewise the huge neo-baroque ballroom with its beautifully decorated ceilings.
Strolling through its lively streets: In the historic quarter of Murcia, next to the Gran Vía, you will be enveloped by the magic of strolling through the streets Platería, Trapería or Jabonerías, which are very emblematic and also very interesting if you wish to go shopping, thanks to the variety, quantity and quality of their shops.  They are always very crowded.
Natural Sites
Salto de Usero (Bullas):  A beautiful corner of the Mulas River, where you can refresh yourself and enjoy the beautiful scenery.
Mazarrón Port: A paradisiacal place, where you can relax, especially if your accommodation is right in front of the beach, the perfect place if you are looking for a quiet place of beach and beach.
---
From EUROPOUND we invite you to visit us in our new office, we are at your disposal for the exchange of your currency, at the BEST RATES, of the city.     You can also book in advance and get ready to enjoy your holiday or business trip.
Contact us, we will be happy to assist you.
---