We just opened our second exchange office in Barcelona at Calle Creu Coberta 143.
We are ready to recive your visit ,you can check our schedules on our web.
We continue to expand our network of exchange offices,offering a good service and as usual, with the most competitive exchange rates on the market to exchange your currencies to euros,or also to exchange foreign currency,for your business trips or vacation
At Europound we strive every day to provide a quality service,always withclose treatment and the best rates.
We hope you visit us at our new location,it will be a pleasure to serve you.
After visiting our offices you can visit this beautiful city.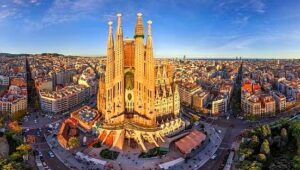 Barcelona is the cosmopolitan capital known for its art and architectura.It is located on the shores of the Mediterranean Sea , about 120 km of the Pyrenees mountain range and the border  with France.As an adorment of the city we have the  fantastic church of the Sagrada Familia.Few European cities offer you the wide cultural  diversity that you will find here in Barcelona .Add to that the 4.2 km of luxurios beaches,very close to the city center,the worm rays of the sun most of the year,and you will have everything you need to spend an excellent hollidayous  in Spain.