Cordoba is undoubtedly one of the most fascinating cities, full of monuments, art and a very special air, in which the Guadalquivir River is also a protagonist.     The whole city holds with charm the heritage of the passing of various cultures, the Phoenicians, Arabs and Romans, who have left in their wake monumental features, which stand out and are very beautiful.     Here is a list of things to do in this beautiful city when you visit.
Mosque of Cordoba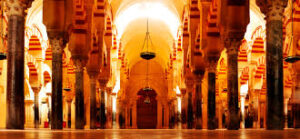 This is the most symbolic and valuable building in the whole city and the main attraction of the capital of Cordoba. It has been built in several phases. In 784 it was Abderramán I who ordered a new religious temple to be built on the site of the old Hispano-Roman basilica of San Vicente Mártir.  It is an architectural work that will surprise you.
The Plaza de la Corredera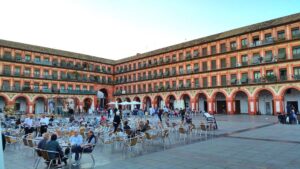 With the unique personality of a main square, which you will probably not find in any other Spanish city, and with its Castilian style, it is one of the most atmospheric meeting places, surrounded by bars and good gastronomy, it is perfect to spend an afternoon with friends.
The Alcazar of the Christian Monarchs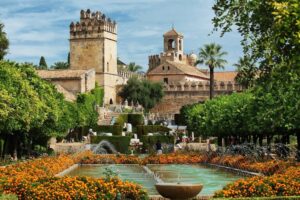 Very close to the Mosque, and with the Guadalquivir next to it, stands the imposing Alcazar de los Reyes Cristianos.  It was built more than 700 years ago, and due to its charming architecture and gardens, it was chosen on several occasions by the Catholic Monarchs to stay when they visited the city, where you can appreciate all its buildings with those beautiful mosaics, it is a journey to another era, a place you should not miss.
The Cordoban Patios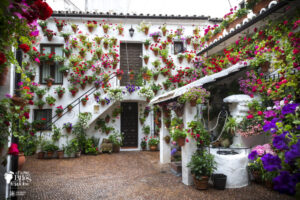 Beautiful balconies decorated with endless pots full of flowers and plants that offer an absolutely captivating setting. And best of all, they can be visited all year round.  There is a beautiful festival full of colour and aromas, which is held in May and you can see the patios of Cordoba at their best. The patios of Calle San Basilio, in the Jewish quarter, are possibly the most famous, although not the only ones.
---
From EUROPOUND we wish you a happy stay in this beautiful city, but not before reminding you that we are at your disposal for the exchange of your currency, at the BEST RATES.   Visit our office in C/ Concepción N. 10, Local 2 (Córdoba).   Or at any of our 26 points of sale, we are closer to you every day. If you wish, you can reserve your currency in advance and get ready to enjoy your holidays or business trip.
Contact us, it will be a pleasure to help you.
---